CHARTER INFORMATION:
PASSENGERS ARE RESPONSIBLE FOR BRINGING:
Signed copy of the Hook'N Eye Sportfishing – Legal Release (See "License and Legal" or request by e-mail)
Soft rubber-soled shoes (Prefer non-open toe for your own safety)
Sunglasses / hat / sunscreen
Weather appropriate clothing. Warm clothing / rain gear / sunshirts / etc.
Food & beverages for yourself and your colleagues. (Please no glass)
Please no liquor.
Camera / Camcorder
One cooler per party with ice for transporting catch home.
If you must take motion sickness medication of any type, it is advisable you discuss with your primary doctor so that it is taken at the appropriate time.
ZERO TOLERANCE POLICY:
ANY ILLEGAL DRUGS ON BOARD ARE PROHIBITED BY FEDERAL LAW. The Captain and crew support and are governed by this law. No drugs in any quantity are permitted on board and if need be the U.S.C.G. will be contacted immediately and the remainder of the trip will forfeited without refund.
CATCH/EQUIPMENT/FISH CLEANING:
On Lake Erie, we are targeting walleye and will fish the length of your trip or to your group's limit.
We supply all of the fishing equipment for your day.
Occasionally, we do have groups that want to take their catch, as is. However, for those of you that don't want to, we will gladly clean your catch for you at no additional charge. Please remember to have an empty cooler to ice the filets on the way home!
PHOTO USE/INFORMATION:
We love to make sure we get pictures of your catch and your day with us! Some of those pictures will be used on our website or used in our booth at various fishing shows.
We do not post personal information.
If for some reason you would prefer that we do not use your groups photo's, please let us know and we will gladly honor your request.
CURRENT RATES:
Full Day (6 Hours of Fishing) – $700
Half Day (3 Hours of Fishing) – $450
Based on 1 – 3 People, 4th Person $100 Extra
TIPPING THE FIRST MATE 20% IS CUSTOMARY
10% Discount for all First Responders & Military including Veterans
DEPOSITS & CANCELLATIONS:
A $250 deposit is required for each charter date reserved.
If a reschedule or cancellation notice is given 2 weeks prior to each charter date, your deposit will be fully refunded.
If the Captain feels it is necessary to cancel due to weather conditions, another date will be rescheduled, or your deposit will be fully refunded.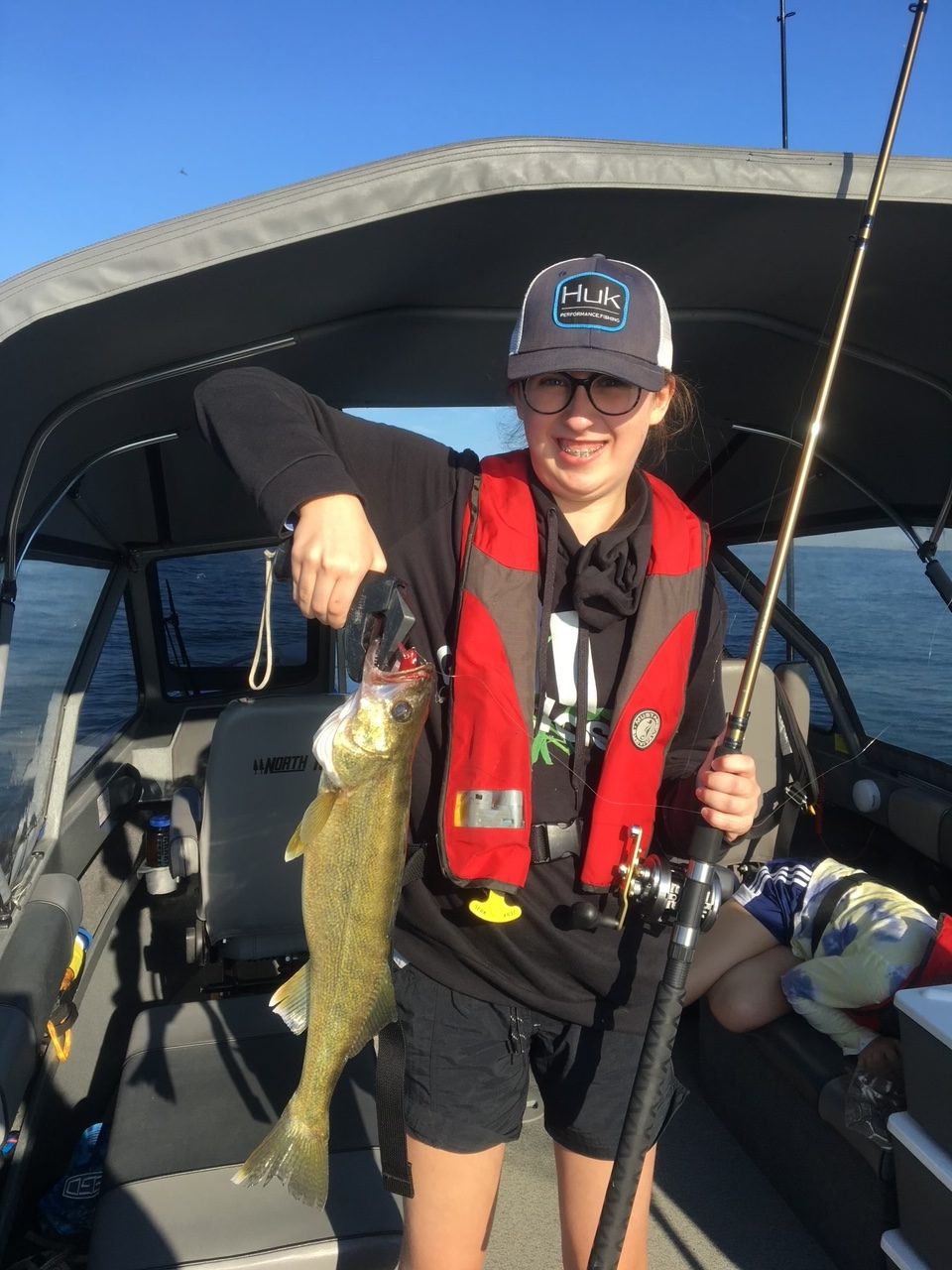 Hook'N Eye Sportfishing perfers to trailer the boat to wherever the bite is the best on Lake Erie for that given time of season. Our two most frequented launch spots include Sunset Bay State Marine Park located in Irving, NY and Erie Basin Marina located in Buffalo, NY. Below are maps/directions on how to get to either of those locations for your convenience.